C 914 161 Athere is an unbroken fascination with complete recordings, especially of symphonic cycles. So the quality of Mendelssohn's symphonies, combined with their astonishing obscurity, makes them an extremely appealing project. ORFEO is delighted to begin a new collaboration with the Irish Chamber Orchestra and its Artistic Director Jörg Widmann to record the symphonies of this great, yet still underestimated Romantic composer.
The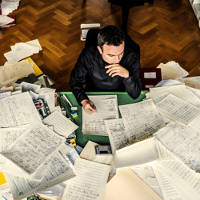 Jörg Widmann
Foto: Marco Borggrevemulti-talented Jörg Widmann comes to the project not just as an instrumentalist and conductor but as a "composer colleague" of Mendelssohn, making this project all the more attractive. Mendelssohn was a Wunderkind who gained prominence with his compositions at an early age. The symphony he numbered his "First", in c minor, was not just the work of a 15-year-old boy, but already his thirteenth essay in the genre (if one counts his twelve string symphonies too). Mendelssohn was both immensely gifted and entered into his chosen career with incredible vigour and unrelenting industry. His family background also provided well-nigh ideal conditions for him to unfold his talent in the highly cultivated milieu of the Berlin salons. He was even able to try out his practical conducting skills with an orchestra provided for the purpose. His background in the "large-scale chamber music" of his string symphonies perhaps makes it all the more pertinent to approach his oeuvre with a chamber orchestra, not with the usual heavy, late-Romantic orchestral apparatus.
Mendelssohn was himself highly educated and possessed of a broad historical knowledge (both in music and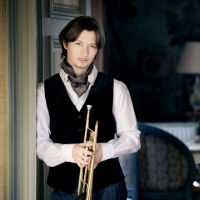 Sergei Nakariakov
Foto: Thierry Cohenbeyond it), and it is indispensable to Jörg Widmann's concept here that the works of this history-conscious Romantic composer should be juxtaposed in all their facets with new works of our own time – composed by Widmann himself. This first edition of the series features such a "bridging" work that is not just the obligatory solo concerto such as one might expect in a concert programme, but a work in a genre popular with Romantic composers such as Schumann and Weber, namely a Konzertstück or "concert piece". Furthermore, ORFEO is delighted to be able to present not just a first-class soloist here, but also a work written especially for him by the Artistic Director of the project, namely Jörg Widmann's ad absurdam. It probably takes a masterly instrumentalist and composer such as Jörg Widmann to be able to divine and explore the truly transcendental possibilities and musical intelligence that this unique virtuoso demonstrates with breath-taking skill at the very boundaries of his instrument – a uniqueness that could not find full expression in the "traditional" repertoire with its festive clarion calls. Nakariakov's mastery of circular breathing is employed here in particular (a technique that one otherwise occasionally finds on the oboe). It is typical of Jörg Widmann's alert creative spirit that he makes use of these unique opportunities with a dash of Romantic irony, heightening them to the point of absurdity – as the title suggests. And despite his mastery of modern compositional means, he here takes the opportunity to offer a truly exciting, dashing piece too.
Mendelssohn's surging, virtuosic "Italian" Symphony is thus incorporated into an overall view of the oeuvre of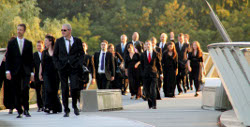 Irish Chamber Orchestra
Foto: Dave Huntthis exuberant symphonist. It is here placed in a programmatic setting that is both worthy of it, and at the same time more natural, yet somehow so much more surprising than that to which we have otherwise become so accustomed.
---
March 2016
Knappertsbusch: Beethoven
The Vienna Philharmonic Orchestra enjoys a special position, not least because – besides its activities in the pit of the Vienna State Opera – it is constituted as an autonomous concert orchestra (something one easily forgets). This means that it is able to establish a very particular relationship with the guest conductors it chooses. In some cases, that relationship has been especially long-lasting and intense. Hans Knappertsbusch (born 1888 in Elberfeld) first encountered the orchestra in 1929 in Salzburg, but by the time of his death in 1964 they had together given no less than 210 concerts – not to mention innumerable performances at the Vienna State Opera.
This singular, unique man was physically imposing, and while he was demonstratively averse to courting publicity, he seemed at the same time not wholly unaware that he was also the object of immense admiration and love on the part of his audiences. He was notorious for almost daringly minimalistic rehearsals – and, up to a certain point, he was loved for it all the more by his orchestras. And not all his various comments on musicians (male and female), colleagues and (modern) composers are of a nature that may be quoted in print. He kept to a relatively small repertoire comprising the masterworks of which he was particularly fond, and in his interpretations of them he developed over the years a brilliantly intuitive, calm, deliberate mental disposition that was paired with a high degree of emotional spontaneity and intense, sometimes abrupt expression.
This characteristic mixture can understandably

C 901 162 Bbe experienced far better in his live concert recordings than in his studio recordings (which he did not particularly like making anyway). In this he was a typical representative of a generation for whom music-making could not be easily combined with the studio perfection that was later required (let alone the efforts – more or less unconscious – that other conductors made to adjust to this clinical perfection in advance of the studio). The "test run" of an act from the Walküre that Decca made with him and with the young Solti, with a view to a complete recording of the Ring, is legendary today – and we all know how that ended.
As with several of his later colleagues, Knappertsbuschs's approach to Beethoven is a special case within the "special case" that was Knappertsbusch himself; he was above all known as a conductor of the "heavier" German late Romantics. In his finest moments, his high degree of unpredictability (something which marks him out as the complete opposite of his great colleague and competitor Karajan) affords his interpretations a sense of "recreating" the music in the truest sense of the word, making it sound as if it is being played "for the first-ever time". And this is probably why the music in these moments sounds so powerful, refreshing and liberating, far removed from any kind of comfortable listening conventions. And today, in retrospect, it also sounds free of any new-fangled fashions or constraints. Expressive details are always granted the time they need, as is the overall context. We never come across a tempo that is too fast, however historically well-founded it might have been. But nor is there any sense of "titanic" expression (whatever that is supposed to be). And in the process, however different in character his various performances of a single work might be, the whole work always comes across as balanced and coherent in itself on a higher level. In short: the characteristics of Knappertsbusch's art of music-making are particularly inspiring in the case of Beethoven – a composer whose music is both rational and constructive, and yet soars freely into new regions of the imagination.
On this new double CD we can hear both a complete concert given in the Musikverein in Vienna on 17 January 1954 – with the Coriolanus Overture, the Fourth Piano Concerto and the Seventh Symphony – and the Third Symphony from a concert at the same venue, given on 17 February 1962. In the unheroic G-major Piano Concerto, Knappertsbusch's partner is his contemporary Backhaus, who was famous for his Beethoven, but who at the same time possessed an individual "objectivity" and a legendary virtuosity that doubly refutes the clichés about "typically German" musicians. In this context, the commentator Gottfried Kraus recalls visiting Backhaus's apartment in Salzburg, where the pianist spoke of his lifelong struggle to play the problematic lyrical chords at the opening of this Concerto. In the third movement, we are also wrenched from our customary listening habits by an unknown cadenza – and then cast back, bewildered, onto the well-known, yet seemingly new paths of the Concerto once again. The best performers can play the great masterpieces in so many different ways because the works themselves are far greater than any individual interpretation.
---
February 2016
Giuseppe Verdi: Un ballo in maschera
Luciano Pavarotti's repertoire comprised only a few roles, but his performances and recordings of them wrote and rewrote history. This was the case in 1970 as Nemorino (in L'elisir d'amore) alongside Joan Sutherland and in 1972 as Rodolfo (in La Bohème) under Karajan, with Mirella Freni als Mimí.

C 907 162 IBut while Pavarotti's Riccardo in Verdi's Un ballo in maschera in his studio recording of 1983 is given pride of place because of its surface brilliance (not least thanks to Georg Solti on the podium), in his live TV broadcast of the same role three years later under Claudio Abbado he offers a striking sense of musical and dramatic immediacy. In this recording of that broadcast from the Vienna State Opera, we can hear a performance both highly nuanced and possessed of an immense radiance, from his very first "Amici mei" to his touching death scene.
Pavarotti had given his Vienna debut already in 1963 at the age of 27. He returned to sing there some 50 times in his landmark roles from Nemorino to Cavaradossi. What is astonishing time and again about Pavarotti is his unmistakeably beautiful, brilliant timbre. It even prompted the leading music critic Jürgen Kesting – who was otherwise so critical – to entitle his chapter on Pavarotti "Vocal eroticism" in his book on the great singers. After the famous canzona in the first act of this recording ("Di' tu se fedele il flutto m'aspetta"), the audience of the Vienna State Opera justifiably burst into a storm of applause (and not for the last time either).
As in the studio recording with Pavarotti and Solti, the role of Amelia was sung by Margaret Price on the opening night of this production. In the second performance, the then 25-year-old Gabriele Lechner had to stand in for her – and she did so not just with an overwhelming, fiery, youthful vigour, but also with astonishing luminosity and conviction, despite her occasional (understandable) nerves. Just listen to the opening of the second act when Amelia waits fearfully for her beloved Riccardo alone at night – and then finally meets him. It's rare to experience such a truthful performance as this. But the Russian mezzosoprano Ludmila Semtschuk as the fortune-teller Ulrica is also beguiling with her passion and profound depth.
Piero Cappuccilli had been well known to the Vienna audience for decades. He too is unmistakeable in his timbre and his art of musical characterisation. Like many famous Verdi baritones he was not free of vanity, but this has no adverse impact on his performance as the jealous husband of Amelia and the friend of Riccardo.
Claudio Abbado had been the new music director of the State Opera since the autumn of 1986. He had given his highly successful debut there just two years earlier. In the years up to 1991 he left his mark on all the musical events of the Vienna State Opera: on the performances in the house on the Ringstrasse, on co-productions at the Theater an der Wien, and also on guest performances outside the State Opera. As ever – and not just with Verdi – Abbado is convincing here in his insistence on a lean, sinewy, tense performance from the Vienna Philharmonic, and this is wholly in the interests of the musical drama. He is also a constant inspiration in how he accompanies the singers.
---
January 2016
Franz Schubert • 8 Impromptus • Amir Katz
When the pianist


C 898 151 AAmir Katz engages with what is probably the most popular group of piano works by Franz Schubert, he can draw on a considerable wealth of experience with the composer's music. Katz won first prize in the Dortmund Schubert Competition, which has the express aim of rewarding interpretative achievements alongside technical ability, while his debut CD (on the Sony label) included two Schubert sonatas. And in the concert hall too, Katz has time and again set himself great musical and technical challenges (such as in his recent performances of Chopin's 24 Etudes). Katz was born in Israel but lives today in Berlin. He has recorded various collections of works for CD and has also often offered his interpretations to the critical ears of concert audiences. This was the case with his cycle of all 48 Songs without Words by Mendelssohn, which he performed on a single evening in the Gasteig, and his cycle of all the Schubert sonatas, given at the same venue over four nights. Whoever has experienced such events knows that in the concert hall, Katz very much retains the rigour he demonstrates in his studio recordings; and in the latter he is just as free as he is when performing for an audience. Both rigour and freedom are conveyed to the audience in equal measure.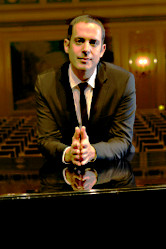 Amir Katz
Foto: Neva NavaeeAnd since they recognize the authenticity and directness of his approach to these demanding projects, his audiences gladly follow where he leads them.
With regard to his pianistic career, what is astonishing is not that Katz made an early start to playing the piano, but that he started so late. He was given his first piano lessons at the age of 11, and already by the age of 15 he was performing in public with the Haifa Symphony Orchestra and the Israeli Chamber Orchestra. When someone strikes out on such a path as an artist, it is hardly going to result in anything run-of-the-mill. And it can also lead him to a very different relationship with the repertoire. There are not many young artists – especially not on the piano, with its immense repertoire of first-rate literature – who let us feel any more that here is an artist who is devoting himself to a specific repertoire with all his heart and soul, making it his own, and who has something important to say about a specific composer (though such artists were to be found in years gone by). With Amir Katz, things are different. We believe him, we see it in him and above all we hear in his playing that he is engaging with this music in a truly heartfelt manner. But we also hear that he remains ever undogmatic, intelligent and curious and at the same time self-critical and capable of irony.
One such "heartfelt" issue for Amir Katz is surely Schubert, before all others. Of course, it's only logical that a pianist so aware of treading the paths of the great Schubert players of the past should also enter into the world of his songs. Besides his delight in playing much mixed chamber music, also by Schubert (such as at Elena Bashkirova's Jerusalem Chamber Music Festival), it is Amir Katz's close partnership with the tenor Pavol Breslik in particular that has led him to an intensive, active engagement with the cosmos of Schubert's songs. Together they have given outstanding concerts (such as at the Munich Opera Festival) and also performed the Schöne Müllerin on their first, highly praised joint CD on the ORFEO label (C 737 151). For ORFEO, it was thus a logical decision to go on to release a recording of Schubert's 8 Impromptus by this pianist. Even if one hasn't experienced his Schubert cycle in concert, one can hear in this recording his deep understanding of Schubert's world, an understanding that reaches from the general to specific pianistic details and draws directly on his experience of Schubert's Lieder.
---
January 2016
Clarinet Concertos • Jörg Widman
When


C 897 151 Athe clarinettist Jörg Widmann releases his first-ever recording of Mozart's concerto, it is a special occasion in a different sense from what one might expect, given that this exceptional work is played and recorded so often. ORFEO is proud to be able to present Widmann's first CD recording of this work, which is also the prelude to a series of further projects with him.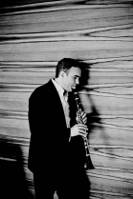 Jörg Widmann
Foto: Marco BorggreveWidmann has naturally already played Mozart's concerto very often, with the most varied combinations of conductors, orchestras and concert programmes. But he only considered releasing a recording after he had gained significant experience of performing the work in concert – and in fact he had a number of different recorded performances to choose from. Widmann consciously chose an uncorrected live recording from a concert in the Berlin Philharmonie, with his colleague the composer/conductor Peter Ruzicka on the podium. Weber's Concerto, however, was recorded in the studio on the Napelastrasse, as was Widmann's own work for this recording. Both in Widmann's remarks in the accompanying booklet and above all in his performance itself, we can undoubtedly recognise an advanced sensibility on his part for the special subtleties and the hidden qualities of this late work by Mozart – a sensibility won from much practical experience in the concert hall. It seems almost absurd to consider that this is a "late work", given that it was written just a few weeks before Mozart's death and is in fact the work of a 35-year-old. But Widmann's first recording of this work is in itself truly "late", given that he is now 42 years old but has long been a well-established performer. And of course, this long wait was on the one hand tied up with Widmann's almost exorbitantly various performing activities, but on the other it has also profited from his own career as a composer. He too began to compose at an early age – in an endeavour to commit to paper his own improvisations on the clarinet – and as a composer, as a committed interpreter of the music of his colleagues, and as an established expert in musical Modernism, he is in a position to offer deep insights into the compositional qualities of a work that is so seemingly simple and "Mozartian", and so unsuspiciously un-modern.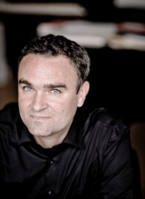 Jörg Widmann
Foto: Marco BorggreveThis deeper view of the work – in which he sees past musico-historical clichés – can perhaps be heard at least indirectly in his interpretation here. But in any case, the great respect for Mozart's art that is evident from Widmann's remarks in the accompanying booklet makes us inquisitive to discover with him the high craftsmanship of compositional "understatement" found in this concerto. A similarly collegial sense of empathy is clear from Widmann's fine text when he gives his reasons for choosing to couple Mozart's concerto with one by a composer who was both literally and figuratively related to him, namely Carl Maria von Weber. His interpretation offers convincing justification for what is one of the few plausible programme combinations for Mozart's work. And finally, he also interpolates his own solo contribution, a work of his own composition, into the space between these two concertos, almost as if it were a cadenza. In his conversation printed here, he points out that while Mozart's concerto is itself lacking a cadenza – which the unreflecting listener can easily overlook – he would never write one for it, despite receiving concrete requests to do so.
---
October 2015
Richard Wagner - Lohengrin
Surprising Wagner première from Knappertsbusch
This is the kind of lucky find of which collectors and producers dream. It's not just a new find of a hitherto unknown or unpublished performance of the nth recording of a work by a sought-after interpreter, but the first release of the first-ever recording of a work by such an artist.


C 900 153 DIn the case of the greatest musicians, and most particularly when it comes to Wagner's oeuvre, the awareness of a painful void is part and parcel of things – thus we have no Parsifal from Furtwängler (even though he conducted the work at La Scala after the War), and no early Wagner works under his baton; but in both cases excerpts have survived that make us wish all the more that we had complete recordings. Of course we knew – at least the experts among us did – that Furtwängler's rival, the arch-Wagnerian Hans Knappertsbusch, did not just repeatedly conduct the difficult late works (to which his 1960 Meistersinger from Bayreuth is testimony, for example, which was recently released on this label). For he also conducted the Flying Dutchman and had a penchant for the lighter muse of composers such as Karl Komzák and Albert Lortzing. But who would have suspected that he conducted Lohengrin in post-War Munich no less than 16 times, and that there even exists a recording of it? After his Merry Wives of Windsor, this is now the second time that ORFEO is able to release a Knappertsbusch world première recording, both of them from the Prinzregententheater in Munich, his Lohengrin dating from just before the reopening of the National Theatre in 1963. Knappertsbusch came originally from Elberfeld in the Rhineland, but chose Munich as his home. And this "Wagner city" of Munich can be proud that he conducted Lohengrin here, but never did so in Bayreuth.
Another first on this recording is the singing of Hans Hopf in the title role, for no recording of him as Lohengrin had surfaced up to now. He is partnered by the highly dramatic duo of Astrid Varnay – who seemed predestined for the role of Ortrud – and the great Wagner soprano Ingrid Bjoner as Elsa, who was 35 at the time of this recording. This is Bjoner's only complete, extant Wagner recording from Munich, even though she was for many years a member of the Munich ensemble (and was so well-versed that she was even able to jump in to take on the role of Isolde in Bayreuth in 1986). Beside Kurt Böhme as King Heinrich, the quality of the ensemble of the day is further proven by the luxury casting of a singer of the calibre of Josef Metternich in the role of the Heerrufer. This recording is not taken from a radio broadcast, but was found in the archives of the then deputy Intendant of the Bavarian State Opera, Herbert List, and it has been prepared carefully using all the technological means at our disposal today.
This edition is further enriched not least by a stimulating text about the Munich music scene of the day. Even the then Telramund, Hans Günter Nöcker, was contacted for information. The opera world of the time is here brought to life before our mind's eye, both in its musical achievements and in the manner in which the production in question featured in the vividly divergent opinions of the then authoritative critics.
ORFEO
ORFEO D'OR