NEW RELEASES of the last 12 months
ORFEO International – New Releases
New Releases briefly introduced
April 2016 – October 2016
October 2016
Anett Fritsch - Mozart-Arias
A Mozart donna of our time
It is not often that a young vocal artist releases a debut CD


C 903 161 Athat is so "complete" or so convincingly conceived and finished to such a high polish as is the case with Anett Fritsch. What makes it all the more astounding is that she achieves this by singing arias from the Mozart/Da Ponte trilogy of Figaro / Don Giovanni / Così, masterworks by a composer regarded and feared in equal measure for the complexity of his writing. Yet the repertoire focus she has chosen is entirely in keeping with the soprano's career to date: she began in her teens to appear on the stage in her home town of Plauen in Saxony and from 2009 to 2015 was an ensemble member of the Deutsche Oper am Rhein (Düsseldorf), progressing in recent years through a series of acclaimed performances on international opera stages portraying Mozart's principal female characters, astounding audiences with her versatility by playing several different roles from the same opera. This remarkable success can already be witnessed in permanent visual form on DVD – in Sven Erik Bechtolf's productions of Figaro and Don Giovanni in Salzburg and Michael Haneke's version of Così which caused such a stir in Madrid. What is more, in 2016 she played all of the important female roles in Le nozze di Figaro in the course of just five months: Susanna in Toulouse in April, Cherubino in Munich in June, and La Contessa in Salzburg in August.
On this Mozart recording she demonstrates the great diversity of roles within those three works, starting with the Contessa's complex first aria "Porgi amor" alongside Cherubino's ecstatic "Non so più cosa son" and his heartfelt canzona, followed by Susanna's "rose aria" from The Marriage of Figaro.
Then from Don Giovanni we hear Donna Elvira's passionate "Ah fuggi il traditor" together with "In quali eccesi" that was added later for the Vienna production. Anett Fritsch considers Donna Elvira to be the most emotionally "all-encompassing" character in the opera, and contrasts her portrayal with the emotionally (and musically) quite different, indeed lightweight approach taken by Zerlina in her efforts to win back Masetto.
Fiordiligi's first two great arias are next, from the apparently comic, yet in truth highly cryptic Così fan tutte; they are separated by the frivolous and unintentionally comic erotic advice given by Despina (the first Mozart role that Anett Fritsch ever performed, in 2006) in "Una donna a quindici anni". It is certainly remarkable how flexibly she does vocal justice to the diverse roles, starting from her lyrical base and then adjusting her voice to the challenges of each character, using a higher level of coloratura or adding her own embellishments, placing emotional emphasis where it is needed.
Perhaps every era needs to have its own version of Mozart; a sort of composite, truly realistic embodiment of the great composer, and Anett Fritsch seems to have achieved this in a particularly appealing way by giving us a new image of woman through her portrayals.
Anett Frisch is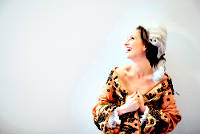 Anett Fritsch presents her debut CD at the concert on October 26, 2016, Prinzregententheater München at 7.30 pm.
Foto: Katerina Huberaccompanied in all this by the Munich Radio Orchestra, arguably the Bavarian city's most flexible ensemble led by the knowledgeable Alessandro De Marchi, who brings a wealth of performance practice to the task. Her recording programme draws to a close with examples from a meaningful, less well known field of Mozart's vocal oeuvre – two expansive concert arias. The two-part, richly modulating aria with the recitative "Bella mia fiamma – Resta, oh cara" was written in Prague for Niccolò Jommelli's Festa teatrale Cerere placata in 1787, at the same time that Don Giovanni was premiered. On this recording, Anett Fritsch takes on a breeches role as Titano as he takes leave of his lover, culminating in him taking his own life.
The lyrics "Misera! Dove son! – Ah! Non son io che parlo" were written just a few years before, though worlds apart from Mozart's mature operas, by one of the leading librettists of the early 18th century, Pietro Metastasio. The opera Ezio of 1728, from which the aria is taken, was set more than 50 times, by composers such as Handel in 1732, Gluck in 1750/1763 and as late as 1777 for Munich by Mysliveček. It is no coincidence that the musical style of the aria, yet another in several parts with recitativo accompagnato and arioso, has strong echoes of Mozart's contemporary work Idomeneo, written in and for Munich in 1781 and so highly esteemed by the composer himself.
---
September 2016
Salzburger Festspieldokumente 2016
"Happiness is otherwise" – valuable new festival rarities
In a world obsessed with short-term gain and moving at an ever faster pace, the classical music scene cannot fail to be even more keenly aware of its special status – and recognize it as a great advantage that must be cherished and nurtured. The epitome and essence of such awareness may be found in festivals in which works well worth hearing are celebrated in performances of the finest quality, compiled into thematic programmes.


C 923 162 I


C 924 161 B


C 926 161 B


C 927 161 BSuch festivals gain added value when they can shape their own existence, moving forward from an uncertain yearly platform to emerge as a fixed point of reference that serves as a role model to others. The Salzburg Festival was established by Richard Strauss and others at a difficult time for the arts, after the disaster of the First World War and the demise of a vanished world. The wealth of broadcast recordings that has accumulated since 1925 gives ORFEO the renewed opportunity this year to offer carefully chosen gems.
The festival's co-founder Strauss was a contemporary composer in his time, still capable of writing new and original works more than two decades later, and so the performance of contemporary works remains at the heart of the Festival's identity, not least as a commitment and a counterbalance to assiduous cultivation of the classics. At a time in which the umpteenth new recording of classical works often seems less than essential, credit is all the more due to the Festival for programming "new music" that is already over a century old. One of this year's new releases is Krenek's Orpheus und Eurydike, a work that is several things rolled into one: "classical" subject-matter in the sense of a further reworking – in this case, of the creation myth of opera itself, not just since Monteverdi (1607), but since the primal "big bang" of the operatic cosmos with Caccini/Peri (1600); one of the timeless tales of human existence linking love, longing for the past and their transcendence in art; a bang-up-to-date work of art that nevertheless remains a work of its time, the era in which the Festival was founded; and above all a festal tribute to honour the 90th birthday of a major 20th-century composer. Krenek himself attended the1990 Festival performance documented here. Kokoschka's stormily Expressionist narrative was put to paper between 1915 and 1917 in the aftermath of a passionate love affair with Alma Mahler, and set to music in headstrong mixed style by Schoenberg's highly independent pupil between then and 1923. Given the literary standing of the librettist (and of the composer), ORFEO is additionally printing the libretto (from which the title of our text is taken), also bearing in mind that this recording is the first and only one ever to be released.
Nikolaus Harnoncourt will undoubtedly prove to be one of the most influential musicians of our time, and his importance cannot possibly be summed up in a few words. His death early this year, and his absence from the world of music in years to come, have effects that cannot yet be properly assessed or even contemplated. All those who knew Harnoncourt well and valued his work know how he was driven by the passion for doing things differently and starting again from the beginning, and the "intermediate stage" of a rare collaboration with the Vienna Philharmonic in Beethoven is thus of the very greatest interest.
The musical life of our times is happily blessed with an abundance of young new string quartets. That makes it all the more instructive to go back to an older quartet always hailed as a pioneer of the highest modern standards and go beyond its studio recordings to the quartet's heyday and the "acid test" of a concert (1965). And that conforms to the maxim of the Juilliard String Quartet that new music should sound classical and old music should sound like new, not only with Dvořák and Mozart but even with Bartók.
One further release explores the field of vocal music, and lieder in particular. The lieder recital no longer seems to be such a self-evident feature of musical life as it once was, but at the Salzburg Festival it always had a special place of its own, and that place has certainly been due in part to the presence of "leading lights" of the music scene. Looking back to the most recent decades, we see that like Dietrich Fischer-Dieskau before her, there was nobody in the Eighties and Nineties who could so captivate the audience at a lieder recital, with a dramatic art and a wealth of vocal resources that defied comparison, as the inimitable Jessye Norman. All who can consider themselves lucky to have caught her in those years, doing what she did best of all, will count themselves equally fortunate – no less than new enthusiasts coming fresh to her work – to discover (or renew acquaintance with) an additional programme by the diva, sensitively accompanied by James Levine, effortlessly superb and impeccably quadrilingual in Richard Strauss, Tchaikovsky, Wagner's Wesendonck Lieder and – with their high "repertoire value" – the rarity of Schoenberg's Brettl-Lieder, Viennese rather than modern.
---
August 2016
Wagner: Der Ring des Nibelungen • Rudolf Kempe
A Festival of Voices in a New Light
Richard Wagner's Ring had been performed in the highly reduced version by Wieland Wagner at the eight Bayreuth festivals since the re-opening of the theatre in 1951, it seemed in 1960 that the time had come for a new production, a task placed in the hands of Wieland's brother Wolfgang. Although his version – still sparing in comparison with today's staging concepts – depended on its use of lighting and special effects, he took the opportunity to bring in a complete musical overhaul: direction of the production was given to the 48-year-old conductor Rudolf Kempe.

C 928 613 YIn 1951 Hans Knappertsbusch had shared the task of conducting the Ring with Herbert von Karajan; in 1956 Knappertsbusch took sole charge of Wieland Wagner's production for the remaining three years. The 1956 production of the Ring appeared on the ORFEO label, C 660513. The conductor from 1952 to 1955 was Josef Keilberth, alternating in 1953 with Clemens Krauss (ORFEO C 809113). With all due respect to Knappertsbusch, who in 1958 turned 70 years old, and retrospectively perhaps to Keilberth too, the reaction to the refreshingly new musical direction of the the Bayreuth debutant from Saxony was unanimously positive and remained so for the five years that Kempe conducted the orchestra; indeed, the impression was retrospectively reinforced (one critic many years later compiled a now famous, comprehensive and comparative discography, citing a recording of Kempe's Bayreuth Ring as the best recording ever). Originally trained as an oboist, the Dresden-born Kempe began conducting in the 1930s and after the war became director of the Dresden, and then of the Bavarian state opera companies. In the course of the 1950s he enjoyed great success as a guest conductor at London's Covent Garden (including Wagner's Ring), and in 1961, the second year he conducted the Ring in Bayreuth, he assumed direction of the Royal Philharmonic Orchestra. His well-rehearsed finely-tempered "neutral" Wagner style that eschewed ostentation may have surprised some observers at the time but it proved that the Ring remained a great and impressive work without resorting to excess.
While a younger generation was


C 660 513 Y

C 809 113 Rtaking over on the conductor's rostrum at the new Bayreuth, a new generation of singers was also finding its feet in the great Ring roles. In the new production, tenor Gerhard Stolze (Loge) was able to build on his finely acted, declamatory portrayal of Mime that he had taken on in 1957. Regine Crespin, who had successfully taken the role of Kundry in Parsifal in Bayreuth since 1958 and only appeared in the Ring that one year, imbued the role of Sieglinde with the touching emotionality of her highly dramatic soprano voice, and gave a persuasive reading, with the young Fritz Uhl playing her loving brother. Uhl, who in his turn had been singing in Bayreuth since 1957, took over the role of Siegmund in 1961 at the age of 32 from Wolfgang Windgassen; for the remaining four years under Kempe: his performance earned plaudits for his rhythmically meticulous performance style and brilliant vocal quality as well as for his intelligent acting. While in the years before and after Kempe's Ring cycles it was Wolfgang Windgassen who took the role of Siegfried, tenor Hans Hopf brought a fresh approach to the role during Kempe's tenure, and was highly praised for his almost Italianate vocal style and wide range of timbre.
The new Ring concept also included changes to the main role cast list, notably for Wotan and the Wanderer. One case in point is Jerome Hines, who played Wotan in Rheingold and The Valkyrie in 1961, with the Canadian bass James Milligan as the Wanderer in Siegfried; sadly, Milligan died that same year at just 33 years of age, though he had already received international accolades for his passionate reading of the role and was touted as an artist of great promise, both for his vocal skill and his stage presence – and in this particular distribution of roles, an exciting complement to Wotan, played by the more introverted American bass baritone, Jerome Hines.
Among the other singers of note – such as Regina Resnick, who descended (only in the vocal sense) from Sieglinde in 1953 to Fricka, Otokar Kraus as Alberich from 1960 to 1963, and an impressive reading of Fafner in all five Kempe years given by the bass Peter Roth-Ehrang, who died far too young – we must not forget to mention Brünnhilde. While Astrid Varnay achieved the high expectations placed in her from a vocal and acting point of view in The Valkyrie, Birgit Nilsson exceeded them all in Siegfried and Twilight of the Gods. Her Bayreuth debut in that role came only when Kempe gave his Ring cycle there, but Brünnhilde became her "true" role and she was immediately acclaimed by all as an exceptional singer, perfect for the role, thanks to her flawless vocal sound production with its dramatic clout, all delivered in perfect intonation, and her seemingly just about inexhaustible powers.
Translation: Janet & Michael Berridge
---
August 2016
Duo Sessions
Duets for violin and cello are what


C 902 161 A might be called the lowest common denominator of sophisticated solo literature and chamber music. Much as each member of the present duo intensively cultivates the chamber music repertoire, they are both first and foremost soloists – and are bound to remain so in the extraordinary technical and musical challenges of this intermediate category. After the premiere of the Ravel sonata, a contemporary listener wittily pleaded for the publication of a reduced version for orchestra.
It is appropriate that the original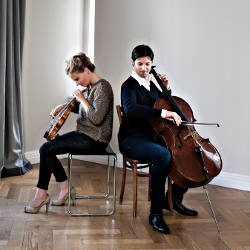 Julia Fischer, Daniel Müller-Schott
Foto: Christine Schneiderworks to be heard in this programme – and they are some of the most important works for this repertoire – were written surprisingly late, some of them a decade or more after the dawn of the Modern era: Kodály 1914; Ravel 1922; Schulhoff 1925. Even if the three works can scarcely be regarded as avant-garde for their time, at least where their tonality is concerned, a new spirit is in the air: a freely ranging search on all levels for new forms and means of expression, coupled with a love of experimentation with extremely sparse scoring. It is also noteworthy that all three works succeed in their own way in reflecting national character in their musical idiom, as befitted an age of heightened awareness of nationhood in music as elsewhere. Ravel offers typical trompe-l'oreille subtlety while retaining immaculately groomed French elegance; Kodály writes against a background of ethnological research in folk music; Schulhoff stands out for the way he experiments with complex combinations of rhythm.
The pioneering work in a distinctive violin-cello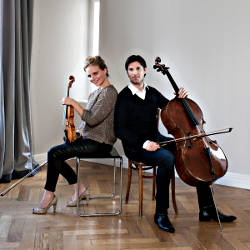 Julia Fischer
Foto: Christine Schneiderrepertoire was surely written a generation earlier: Brahms's concerto for this "eight-stringed giant" of 1887. It was a performance of his work that brought our two soloists together on the concert platform for the first time, setting a pattern for the future. In fact, both artists wish this CD release to represent a record of their work together as a duo over the past ten years and more, as the two Munich musicians explain in an extended conversation with Meret Forster printed in the accompanying booklet. It is already the case that performances of the Brahms Double Concerto by our pair of soloists now almost inevitably lead the audience to expect the immortal Handel-Halvorsen Passacaglia of 1894 – a demand which is gladly met. This congenial enlargement by the Norwegian violinist and composer Johan Halvorsen (1864-1935) of a passacaglia from a Handel suite for harpsichord exists in various pairings of violin, viola and cello. It accentuates the infectious vigour of the original in a remarkably clever manner by its highly challenging but idiomatic transposition to two quite differently characterized and mutually supportive instruments.
---
June 2016
Pavol Breslik • Mozart
When such an internationally celebrated singer as Pavol Breslik, an artist progressively adding to his repertoire, nevertheless keeps returning to Mozart, he is warmly praised by the critics and more than that, he has no qualms about his decision: "When I go back to Mozart after excursions into other repertoire – like Lensky or bel canto –and feel at home with Tamino, I know I have done the right thing."
The burning question of how to master these demanding Mozart vocal roles


C 889 161 Ahas been answered again and again, without embarrassment and with sustained success, from the very start of his career. Born in Slovakia in 1979, the young artist made his professional singing debut at the age of twenty-one in the challenging role of Don Ottavio, in the very city where Don Giovanni was premiered: Prague. Since then, he has added to his tally of such roles on many of the world's leading stages: Salzburg in 2008 (staged by Claus Guth), the Munich production of 2009, Vienna Staatsoper in 2011, London under Constantin Carydis and Los Angeles under Dudamel in 2012 and at last in 2013 Zurich, where the artist is resident. And Pavol Breslik does justice to the very different Prague and Vienna arias that are to be heard here not only in the studio but when necessary – as in Munich – live on stage.
Pavol Breslik enjoyed great success at another Mozart premiere location, in Dieter Dorn's new staging of Idomeneo at the 2008 reopening of the Cuvilliés Theatre in Munich, in the role of Idamante. Also to be heard here is the great "Fuor del mar" aria of the title role, sung by the priest Idomeneo, Idamante's father. In this latter aria, needless to say, the singer rises to the challenge of the original version's virtuoso ornaments, which Mozart spared his elderly soloist at the work's first performance.
Of Belmonte's four arias in Die Entführung, the two most important are included here, "Konstanze, dich wieder zu sehen" and "Ich baue ganz auf deine Stärke", known as the "master builder's aria" and often dropped on account of its wide vocal range, challenges and length.
Having sung the role of

Pavol Breslik
Foto: Neda NavaeeFerrando in Così fan tutte in 2010 at the New York Met and in London, Pavol Breslik was regrettably obliged to withdraw at short notice from Dieter Dorn's Munich production on account of an inflammation of the vocal cords. The present "Un' aura amorosa" is a later recording.
Breslik now treats Tamino almost as his showpiece among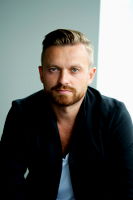 Pavol Breslik
Foto: Neda NavaeeMozart roles; he sang it at an early age in his home city of Bratislava, he has been singing it at Berlin's Staatsoper Unter den Linden ever since his ensemble years there, he made his 2006 debut with it at the Bavarian Staatsoper, and only lately he embodied the part in the Baden-Baden production under Simon Rattle. As the role contains just one real aria, it is followed by the enchantment scene with the magic flute and a scene with the reciter, here played by the venerable José van Dam.
From our singer's impressively large repertoire of concert arias comes one of his favourites, "Misero! O sogno – Aura che intorno spiri", sung in operatic manner that with its dramatic recitative and elegiac lamentation movingly conveys the sorrow of farewell.
---
May 2016
Violin Sonatas & Pieces
On their new CD the Latvian Skride sisters


C 913 161 Apresent yet more composers from their extended Baltic homeland region (allowing that they include Norwegian Edvard Grieg, especially since he composed his Sonata in Copenhagen, then called Christiania). The uniting thread of the works on this CD is "finding one's own sound", something which each of the featured composers first had to find, and an element that the sisters effortlessly achieve as performers. All four composers on this recording share a close link with the violin, and all four had an ambivalent relationship with the German tradition. Grieg emerged as the lodestar above his three younger colleagues with his Sonata No. 2 in G major op. 13 of 1867; all four were friends and the other three dedicated their works to him. Grieg's Sonata introduces folk music influences into the expanded Romantic form in a completely new manner: not just as a quote or "tone", but as an integral compositional element on all levels, from the dramatically erupting, cadenza-like violin solo through to the internal motivic work. Throughout the entire piece, the piano is given what was once known as the "precentor/cantor function" .
Wilhelm Stenhammar,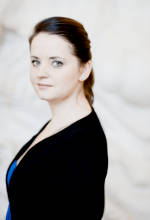 Baiba Skride
Foto: Marco Borggrevea leading Swedish conductor of his time and a brilliant concert pianist, was very fond of chamber music both as a performer and as a composer. In addition to the six string quartets which are regarded as his main oeuvre, he left this Violin Sonata in A minor op. 19 of 1899 to posterity. While still paying tribute to the German tradition, the sonata transcends that style while merely touching upon Romantic and folk elements. In return he subtly invokes his own mysterious "semi-frankness" towards the future, which makes considerable demands upon the violin with long passages in high registers, sometimes transposed an octave.
Jean Sibelius and Carl Nielsen,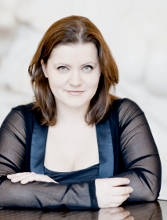 Lauma Skride
Foto: Marco Borggrevewho were good friends, played and composed a great deal of chamber music. They composed one violin concerto each (both featured on Baiba Skride's previous CD recording, C 896152 on ORFEO). While Nielsen's works for solo violin centre on three mature sonatas with piano accompaniment, Sibelius wrote a large number of short pieces for violin and piano, often combined into groups of works, such as the four brought together here as op. 78. They represent the greatest conceivable contrast to the great composer's seven famous, large-scale symphonies. In the smaller scale form, the often erratic symphonist reveals himself as an utterly different, yet no less able composer. He is able to evoke moods that emerge for a moment and then disappear (his Impromptu of 1915) and to create the flourishing, heartfelt cantilenas that reveal his expert knowledge of the instrument (his Romance of 1915 and the Religioso of 1917), which Baiba Skride naturally lends the requisite impeccable taste. Sibelius then rounds off the inward-gazing/introvert cycle with a Nordic-tinted Baroque-styled dance (Rigaudon, 1915), making his intention perfectly clear: this is an era that has passed ...
In contrast, the Violin Sonata No 2 op. 35 of 1912 by the Danish individualist Carl Nielsen offers the most modern music in its way. In a manner typical of the composer, Nielsen eschews the foundations of clearly traditional harmony and consciously experiments with shimmering tonality that naturally opens up opportunities for creating his own new tonal landscape. At the same time, the composer proves to be entirely and sensitively in tune with the times with regard to his approach to historical and musical gestures and formal concepts, and even to be not unlike Mozart in more of an "objective" approach to the dramaturgical content of his music than in an emotionally-generated Romantic relationship to it.
The fact that all four composers share a very conscious musicological relationship to their music, which brings out their "own sound" in their works, proves here to be highly rewarding, both for an unsentimental musicality and for the performers' flawless, nuanced technique on the piano and violin, as well as for their open-minded listeners.
---
April 2016
Mendelssohn Symphonies 1 & 4
Today


C 914 161 Athere is an unbroken fascination with complete recordings, especially of symphonic cycles. So the quality of Mendelssohn's symphonies, combined with their astonishing obscurity, makes them an extremely appealing project. ORFEO is delighted to begin a new collaboration with the Irish Chamber Orchestra and its Artistic Director Jörg Widmann to record the symphonies of this great, yet still underestimated Romantic composer.
The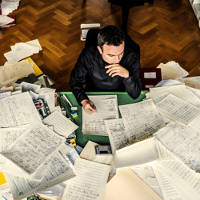 Jörg Widmann
Foto: Marco Borggrevemulti-talented Jörg Widmann comes to the project not just as an instrumentalist and conductor but as a "composer colleague" of Mendelssohn, making this project all the more attractive. Mendelssohn was a Wunderkind who gained prominence with his compositions at an early age. The symphony he numbered his "First", in c minor, was not just the work of a 15-year-old boy, but already his thirteenth essay in the genre (if one counts his twelve string symphonies too). Mendelssohn was both immensely gifted and entered into his chosen career with incredible vigour and unrelenting industry. His family background also provided well-nigh ideal conditions for him to unfold his talent in the highly cultivated milieu of the Berlin salons. He was even able to try out his practical conducting skills with an orchestra provided for the purpose. His background in the "large-scale chamber music" of his string symphonies perhaps makes it all the more pertinent to approach his oeuvre with a chamber orchestra, not with the usual heavy, late-Romantic orchestral apparatus.
Mendelssohn was himself highly educated and possessed of a broad historical knowledge (both in music and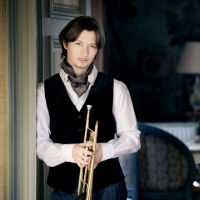 Sergei Nakariakov
Foto: Thierry Cohenbeyond it), and it is indispensable to Jörg Widmann's concept here that the works of this history-conscious Romantic composer should be juxtaposed in all their facets with new works of our own time – composed by Widmann himself. This first edition of the series features such a "bridging" work that is not just the obligatory solo concerto such as one might expect in a concert programme, but a work in a genre popular with Romantic composers such as Schumann and Weber, namely a Konzertstück or "concert piece". Furthermore, ORFEO is delighted to be able to present not just a first-class soloist here, but also a work written especially for him by the Artistic Director of the project, namely Jörg Widmann's ad absurdam. It probably takes a masterly instrumentalist and composer such as Jörg Widmann to be able to divine and explore the truly transcendental possibilities and musical intelligence that this unique virtuoso demonstrates with breath-taking skill at the very boundaries of his instrument – a uniqueness that could not find full expression in the "traditional" repertoire with its festive clarion calls. Nakariakov's mastery of circular breathing is employed here in particular (a technique that one otherwise occasionally finds on the oboe). It is typical of Jörg Widmann's alert creative spirit that he makes use of these unique opportunities with a dash of Romantic irony, heightening them to the point of absurdity – as the title suggests. And despite his mastery of modern compositional means, he here takes the opportunity to offer a truly exciting, dashing piece too.
Mendelssohn's surging, virtuosic "Italian" Symphony is thus incorporated into an overall view of the oeuvre of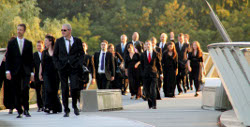 Irish Chamber Orchestra
Foto: Dave Huntthis exuberant symphonist. It is here placed in a programmatic setting that is both worthy of it, and at the same time more natural, yet somehow so much more surprising than that to which we have otherwise become so accustomed.
ORFEO
ORFEO D'OR