C 921 171 Conceived originall, to mark the celebrations of 300 years since the Reformation's "Augsburg Confession" of 1530, to play the work and the premiere never took place – a shocking experience for the then-23- the premiere planned for 1832 seemed to be very promising, since the work was to be played by the benchmark orchestra of the day, the Orchestra of the Paris Conservatoire under the baton of François-Antoine Habeneck. However, rehearsals descended into tumult, the orchestra refused year-old former child prodigy. The following year the gifted composer applied, after the death of his mentor Carl Friedrich Zelter, to succeed him as Director of the Berlin Singakademie. Mendelssohn was eminently qualified for the post and was encouraged by many friends to apply, in view of his groundbreaking revival of Bach's St Matthew Passion with that choral society just four years earlier. As part of his application Mendelssohn had given three concerts, one of which included the premiere of his "Symphony in Celebration of the Church Revolution". The fact that his application was unsuccessful was traumatic for the young composer, whose approach to faith was an idealistic one. The rejection was bound up for him with his second great attempt at a symphony and he wanted nothing more to do with the work thereafter; indeed, it was not published until 1868, more than 20 years after his death, by his son Paul under the posthumous opus number 107.
Today's verdict on the work's musical status is of course an entirely different matter. The reports by Mendelssohn's friend Ferdinand Hiller about the failed rehearsals in Paris – "the work is altogether too scholastic [...] too many fugatos, too little melody and much more in that vein" – say more from today's standpoint about the composer than about the overburdened orchestra musicians. And in this era when we are almost obsessively torn between overcoming and reawakening national, cultural and religious identities, Mendelssohn's complex and (not merely) aesthetic experiment undertaken at a time poised between revolution and restoration is truly fascinating – especially when one adds in the extra dimension of the historical allusion to the Reformation. The daring and abundantly formal characteristics of the work offer more than ample material for such analysis, from the confrontation of the artistic, canonically-elaborated Catholic intonation of the Psalms employing a Reformational wind chorale over the "Dresden Amen" that both Wagner and Bruckner were to use, through to the superimposition of the sonata writing and chorale variation in the final movement.
For someone like Jörg Widmann, so intimately familiar with the technical and aesthetic dimensions of the art of composition, it was an appealing challenge to contrast the historically fraught and consciously complex experiment by the mature prodigy Mendelssohn with the young Mozart's highly emotional, compositionally concentrated answer to his encounter with Bach's Fugues, which Baron von Swieten had introduced him to in the 1780s in Vienna: the Fugue in C Minor for two pianos, expanded here by a passionate Adagio and arranged here for string orchestra.
The first recording of an adaptation of Widmann's own String Quartet No. 5 (with soprano) takes the same formation and decisively expands it with an oboe and two bassoons in his "Attempt at a Fugue" from 2005, which he believes is probably his most serious piece in the tradition of Haydn's and Mozart's "scholarly", "artificial" fugal quartets, and which both reflects and deconstructs the history of this genre.
Finally, the instrumentalist, conductor and composer Widmann has fulfilled a personal wish and a promise to the orchestra and all clarinetists and listeners to arrange for clarinet and piano one of his favourite pieces by the 15-year-old Mendelssohn: the Andante from the Sonata in E flat major of 1824, and to perform it with the orchestra, for the first time, in his version for clarinet, string orchestra, harp and celesta to produce – according to the arranger himself –"miracle music".
---
February 2017
Johan Botha
Johan Botha's unfailingly radiant and yet powerfully carrying voice – notably in the middle register – established him over many years as a Strauss and Wagner singer par excellence, but most of all as a youthful hero, and not as a weighty heroic tenor.


C 906 171 BIn fact Tannhäuser was something of a marginal role for him, but what a role! The recording of the Rome episode in the Vienna State Opera premiere of June 16, 2010, with which (after the Florestan aria from Fidelio) the CD's four-part Wagner portrait begins with excerpts from Vienna Staatsoper productions, movingly reveals how as a suffering yet passionate pilgrim – at the side of Christian Gerhaher as Wolfram – he returns from Rome dejected and unredeemed.
The bridal-chamber scene from the third act of Lohengrin looks back to Botha's early years at the Staatsoper. Opposite Cheryl Studer as Elsa, he was just 31 years old in 1997! And here too as Lohengrin in all his splendour he makes the abyss audible. Fifteen years later, Botha is an ideal, alert Walther von Stolzing, who after a night of dreams reveals his Prize Song to cobbler-poet Hans Sachs, who in turn refines it and writes it down. The Franconian knight was known to be his favourite Wagner part ever since his sensational debut in the role at the Vienna Volksoper in 1998. And in 2004, Botha begins his scene with Kundry (Angela Denoke) from the second act of Parsifal as a guileless youth whose cries of "Amfortas!" after Kundry's kiss and the knowledge that it brings are yet possessed of a troubling primal force.
Three of the loveliest and most important Strauss roles are also to be found on the CD. In addition to the Emperor (Die Frau ohne Schatten), whom Botha had already sung to great acclaim at the Salzburg Festival in 2011 and reprised in 2013 for the 50th anniversary of the reopening of the Nationaltheater in Munich, we hear his proudly dominant Apollo (Daphne) alongside Michael Schade (Leukippos) and Ricarda Merbeth (Daphne). At the climactic moment of the opera, the conflict between the god and the two mortals ends with Apollo's sudden extinction of his human rival.
The most moving scene comes perhaps at the close of Ariadne auf Naxos, when a figure hailed as Hermes, the divine messenger of death, proves to be Bacchus, the god of love, and Ariadne (Soile Isokoski) timidly asks him: "Is there no farther shore, are we there already?" The recording of October 18, 2014 captures one of Johan Botha's last appearances at the Vienna Staatsoper. He died on September 8, 2016 – aged just fifty-one.
---
January 2017
Verismo • Krassimira Stoyanova
After her debut CD I palpiti d'amour (2008), followed by Slavic Opera Arias (2011) and a Verdi album (2014), the Bulgarian soprano Krassimira Stoyanova now turns her attention to verismo – in the broadest sense of the word. Again and again she lends those roles by Puccini, Mascagni, Cilea (Adriana Lecouvreur), Giordano (Andrea Chénier) and Catalani (La Wally) her inimitably nuanced and finely resonant lirico spinto soprano, a voice which is both flexible and capable of the highest notes while possessing an enchanting sonority and profound middle range.
Be it Puccini's foolhardy, gem-addicted Manon,


C 899 171 Awho will ultimately die of thirst in the desert – featured here with her great arias from Acts 2 and 4 – or such tender characters as Liù (Turandot), Madame Butterfly – singing the hope-filled aria "Un bel dì vedremo" and "Che tua madre" immediately before her suicide – or the nun Sister Angelica, whose unconditional love must ultimately lead to her death: Stoyanova always finds the right tone and finely-nuanced expression for each of these female characters – culminating right at the end in "Vissi d'arte" by Tosca – a final surge of life-affirming passion and simultaneously a resigned farewell to life by a great singer.
This selection of great arias is preceded seamlessly by the great and poignant death-scene aria sung by the protagonist of Pietro Mascagni's opera Lodoletta, in which a spurned woman imagines her unattainable lover as she lies delirious in the snow – maddened by hunger and cold – before she slips into the hereafter.
As with her two previous albums for the Orfeo label, she is accompanied by the Munich Radio Orchestra under Pavel Baleff with great sensitivity and intensity, thereby giving each of these classic opera scenes their own musical world.
---
December 2016
Mahler-Szenen 1
The fact that this rare gem was considered lost

C 925 161 Band was only brought back into the repertory in 1993 thanks to a great deal of effort is astounding (even more so considering the relative success it has enjoyed since that time): a chamber-music version of Mahler's Fourth Symphony by the Schoenberg pupil Erwin Stein for his "society for private performances of music". The work was reconstructed from Erwin Stein's notes in his score of the original symphony and his correspondence with Schoenberg. A tonally pleasing piece in itself, it also gives valuable insight into the compositional structure of the original – and provides a creative contribution towards imagining the relationship between two highly important composers: after all, while the circle around Schoenberg truly venerated Gustav Mahler, he in turn took an active and certainly respectful interest in the new paths that Schoenberg had embarked upon. What a fitting contribution to, slightly quirky, yet idiomatically highly suitable, distorted Strauss waltzes by Webern and Schoenberg as "the icing on the cake". All played by an incomparable "all-star ensemble" featuring Renaud Capuçon, Antoine Tamestit, Clemens Hagen, Magali Mosnier, Sebastian Manz, Albrecht Mayer, Herbert Schuch, Martin Grubinger among others! They are joined in the last movement of the Mahler symphony by Christiane Karg, singing of "the Mahler anniversary year of 2011, marking the centenary of his death! This is matched by two irresistible heavenly joys" ...
---
November 2016
Konstantin Lifschitz – Daphnis et Chloé
As with his previous CD releases, in choosing his


C 905 162 Aprogramme Konstantin Lifschitz is concerned not just to find an interesting idea linking the works, but also to bring out the impact of new aural versions. The title "Saisons russes" refers to the pioneering aesthetic and musical developments initiated by the famous impresario Sergei Diaghilev and the legendary performances given by his Ballets Russes company in Paris from 1910 onwards. Many other contemporary composers were also involved in this development, foremost among them Claude Debussy, Maurice Ravel and Igor Stravinsky. The works by these three composers, presented together on this CD, are linked by their treatment of material based on myth and legend, and their use of new musical techniques.
Debussy's Six Epigraphes antiques are taken from twelve short pieces composed around 1900 as incidental music for 2 flutes, 2 harps and celesta for the "Chansons de Bilitis", songs inspired by ancient Greek poems. In 1914 Debussy arranged six of them for the eminently suitable piano duet formation. Then in 1915 he re-arranged that version, without changing the essence, but adding refinements to make it more of a virtuoso work for piano solo. This set joins Debussy's two books of six études each, completed that same year, as the composer's very last works for piano. Maurice Ravel, who can be viewed as a disciple of Debussy and at the same time was an inspiration to the older composer, produced his longest and most complex orchestral work for the "Saisons russes" in 1912: some 60 minutes long, this "choreographic symphony" entitled Daphnis et Chloé was based on an erotic pastoral novel written by the Greek poet Longus in the third century AD. Igor Stravinsky praised the work as "one of the most beautiful products in the entire history of French music."
On this CD, Konstantin Lifschitz here plays his own highly ambitious solo piano version of several pieces from Ravel's work. The cascading notes, orgiastically enhanced dances and intoxicating tone paintings (especially one of a sunrise) require the unleashing of a high degree of virtuosity from the performer, such as Ravel had done in his Gaspard de la Nuit. Even taken to such extremes, it remains astounding how accomplished these piano versions sound, considering that the composer's Impressionist style was famous for its specific art of orchestration.
After the resounding success of his ballets Petrushka (1910) and The Firebird (1911), Igor Stravinsky shot to the pinnacle of notoriety in 1913 with the Ballets Russes, when his scandalous Rite of Spring was premiered in 1913. On this CD, he is introduced via another, stylistically very different work, composed in 1928, though it does indeed have a link to Diaghilev. Yet again we encounter a character from the world of antiquity, as the god Apollo instructs three muses in their roles and takes them to Mount Parnassus. This ballet music is unusual, as it was written purely for string orchestra. The composer was especially keen to revive the concept of bringing out the melody, something he felt had been neglected over the course of the nineteenth century, leading to a loss of clear melodic lines. Stravinsky believed that melody was definitely compatible with many-voiced, polyphonic composition. This is vividly reflected in this premiere recording of his own piano transcription (unlike Artur Rubinstein's notorious reworking of the Petrushka Suite). At the work's premiere in Washington a year before his death, Diaghilev expressed his entire satisfaction with it.
Jakov Jakoulov's work Carousel, written specially for Konstantin Lifschitz, provides a further link to the "typical" beginnings of the Ballets Russes with Petrushka. Born in Moscow, Jakoulov emigrated via Munich to Boston. Carousel combines virtuoso aplomb and instinctive playing with abrupt mood changes and immersion in diverse worlds of expression. The merry-go-round is used to portray human life: a somewhat banal analogy, one might think, but one which – the composer believes – reveals a inherent truth. We all revolve around the axis of our own fate until the spring snaps, bringing the carousel to a halt. "Well, after all, we're Russians, aren't we?"
---
October 2016
Anett Fritsch - Mozart-Arias
A Mozart donna of our time
It is not often that a young vocal artist releases a debut CD


C 903 161 Athat is so "complete" or so convincingly conceived and finished to such a high polish as is the case with Anett Fritsch. What makes it all the more astounding is that she achieves this by singing arias from the Mozart/Da Ponte trilogy of Figaro / Don Giovanni / Così, masterworks by a composer regarded and feared in equal measure for the complexity of his writing. Yet the repertoire focus she has chosen is entirely in keeping with the soprano's career to date: she began in her teens to appear on the stage in her home town of Plauen in Saxony and from 2009 to 2015 was an ensemble member of the Deutsche Oper am Rhein (Düsseldorf), progressing in recent years through a series of acclaimed performances on international opera stages portraying Mozart's principal female characters, astounding audiences with her versatility by playing several different roles from the same opera. This remarkable success can already be witnessed in permanent visual form on DVD – in Sven Erik Bechtolf's productions of Figaro and Don Giovanni in Salzburg and Michael Haneke's version of Così which caused such a stir in Madrid. What is more, in 2016 she played all of the important female roles in Le nozze di Figaro in the course of just five months: Susanna in Toulouse in April, Cherubino in Munich in June, and La Contessa in Salzburg in August.
On this Mozart recording she demonstrates the great diversity of roles within those three works, starting with the Contessa's complex first aria "Porgi amor" alongside Cherubino's ecstatic "Non so più cosa son" and his heartfelt canzona, followed by Susanna's "rose aria" from The Marriage of Figaro.
Then from Don Giovanni we hear Donna Elvira's passionate "Ah fuggi il traditor" together with "In quali eccesi" that was added later for the Vienna production. Anett Fritsch considers Donna Elvira to be the most emotionally "all-encompassing" character in the opera, and contrasts her portrayal with the emotionally (and musically) quite different, indeed lightweight approach taken by Zerlina in her efforts to win back Masetto.
Fiordiligi's first two great arias are next, from the apparently comic, yet in truth highly cryptic Così fan tutte; they are separated by the frivolous and unintentionally comic erotic advice given by Despina (the first Mozart role that Anett Fritsch ever performed, in 2006) in "Una donna a quindici anni". It is certainly remarkable how flexibly she does vocal justice to the diverse roles, starting from her lyrical base and then adjusting her voice to the challenges of each character, using a higher level of coloratura or adding her own embellishments, placing emotional emphasis where it is needed.
Perhaps every era needs to have its own version of Mozart; a sort of composite, truly realistic embodiment of the great composer, and Anett Fritsch seems to have achieved this in a particularly appealing way by giving us a new image of woman through her portrayals.
Anett Frisch is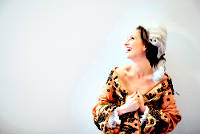 Anett Fritsch presents her debut CD at the concert on October 26, 2016, Prinzregententheater München at 7.30 pm.
Foto: Katerina Huberaccompanied in all this by the Munich Radio Orchestra, arguably the Bavarian city's most flexible ensemble led by the knowledgeable Alessandro De Marchi, who brings a wealth of performance practice to the task. Her recording programme draws to a close with examples from a meaningful, less well known field of Mozart's vocal oeuvre – two expansive concert arias. The two-part, richly modulating aria with the recitative "Bella mia fiamma – Resta, oh cara" was written in Prague for Niccolò Jommelli's Festa teatrale Cerere placata in 1787, at the same time that Don Giovanni was premiered. On this recording, Anett Fritsch takes on a breeches role as Titano as he takes leave of his lover, culminating in him taking his own life.
The lyrics "Misera! Dove son! – Ah! Non son io che parlo" were written just a few years before, though worlds apart from Mozart's mature operas, by one of the leading librettists of the early 18th century, Pietro Metastasio. The opera Ezio of 1728, from which the aria is taken, was set more than 50 times, by composers such as Handel in 1732, Gluck in 1750/1763 and as late as 1777 for Munich by Mysliveček. It is no coincidence that the musical style of the aria, yet another in several parts with recitativo accompagnato and arioso, has strong echoes of Mozart's contemporary work Idomeneo, written in and for Munich in 1781 and so highly esteemed by the composer himself.
---
September 2016
Salzburger Festspieldokumente 2016
"Happiness is otherwise" – valuable new festival rarities
In a world obsessed with short-term gain and moving at an ever faster pace, the classical music scene cannot fail to be even more keenly aware of its special status – and recognize it as a great advantage that must be cherished and nurtured. The epitome and essence of such awareness may be found in festivals in which works well worth hearing are celebrated in performances of the finest quality, compiled into thematic programmes.


C 923 162 I


C 924 161 B


C 926 161 B


C 927 161 BSuch festivals gain added value when they can shape their own existence, moving forward from an uncertain yearly platform to emerge as a fixed point of reference that serves as a role model to others. The Salzburg Festival was established by Richard Strauss and others at a difficult time for the arts, after the disaster of the First World War and the demise of a vanished world. The wealth of broadcast recordings that has accumulated since 1925 gives ORFEO the renewed opportunity this year to offer carefully chosen gems.
The festival's co-founder Strauss was a contemporary composer in his time, still capable of writing new and original works more than two decades later, and so the performance of contemporary works remains at the heart of the Festival's identity, not least as a commitment and a counterbalance to assiduous cultivation of the classics. At a time in which the umpteenth new recording of classical works often seems less than essential, credit is all the more due to the Festival for programming "new music" that is already over a century old. One of this year's new releases is Krenek's Orpheus und Eurydike, a work that is several things rolled into one: "classical" subject-matter in the sense of a further reworking – in this case, of the creation myth of opera itself, not just since Monteverdi (1607), but since the primal "big bang" of the operatic cosmos with Caccini/Peri (1600); one of the timeless tales of human existence linking love, longing for the past and their transcendence in art; a bang-up-to-date work of art that nevertheless remains a work of its time, the era in which the Festival was founded; and above all a festal tribute to honour the 90th birthday of a major 20th-century composer. Krenek himself attended the1990 Festival performance documented here. Kokoschka's stormily Expressionist narrative was put to paper between 1915 and 1917 in the aftermath of a passionate love affair with Alma Mahler, and set to music in headstrong mixed style by Schoenberg's highly independent pupil between then and 1923. Given the literary standing of the librettist (and of the composer), ORFEO is additionally printing the libretto (from which the title of our text is taken), also bearing in mind that this recording is the first and only one ever to be released.
Nikolaus Harnoncourt will undoubtedly prove to be one of the most influential musicians of our time, and his importance cannot possibly be summed up in a few words. His death early this year, and his absence from the world of music in years to come, have effects that cannot yet be properly assessed or even contemplated. All those who knew Harnoncourt well and valued his work know how he was driven by the passion for doing things differently and starting again from the beginning, and the "intermediate stage" of a rare collaboration with the Vienna Philharmonic in Beethoven is thus of the very greatest interest.
The musical life of our times is happily blessed with an abundance of young new string quartets. That makes it all the more instructive to go back to an older quartet always hailed as a pioneer of the highest modern standards and go beyond its studio recordings to the quartet's heyday and the "acid test" of a concert (1965). And that conforms to the maxim of the Juilliard String Quartet that new music should sound classical and old music should sound like new, not only with Dvořák and Mozart but even with Bartók.
One further release explores the field of vocal music, and lieder in particular. The lieder recital no longer seems to be such a self-evident feature of musical life as it once was, but at the Salzburg Festival it always had a special place of its own, and that place has certainly been due in part to the presence of "leading lights" of the music scene. Looking back to the most recent decades, we see that like Dietrich Fischer-Dieskau before her, there was nobody in the Eighties and Nineties who could so captivate the audience at a lieder recital, with a dramatic art and a wealth of vocal resources that defied comparison, as the inimitable Jessye Norman. All who can consider themselves lucky to have caught her in those years, doing what she did best of all, will count themselves equally fortunate – no less than new enthusiasts coming fresh to her work – to discover (or renew acquaintance with) an additional programme by the diva, sensitively accompanied by James Levine, effortlessly superb and impeccably quadrilingual in Richard Strauss, Tchaikovsky, Wagner's Wesendonck Lieder and – with their high "repertoire value" – the rarity of Schoenberg's Brettl-Lieder, Viennese rather than modern.
ORFEO
ORFEO D'OR