F. Schubert: Impromptu E flat major D 899 No. 2
F. Schubert: Impromptu G flat major D 899 No. 3
F. Schubert: Impromptu A flat major D 899 No. 4
F. Schubert: Impromptu f minor D 935 No. 1
F. Schubert: Impromptu A flat major D 935 No. 2
F. Schubert: Impromptu B flat major D 935 No. 3
F. Schubert: Impromptu f minor D 935 No. 4


Artists:

Amir Katz (Klavier)

Franz Schubert • 8 Impromptus • Amir Katz
When the pianist

C 898 151 AAmir Katz engages with what is probably the most popular group of piano works by Franz Schubert, he can draw on a considerable wealth of experience with the composer's music. Katz won first prize in the Dortmund Schubert Competition, which has the express aim of rewarding interpretative achievements alongside technical ability, while his debut CD (on the Sony label) included two Schubert sonatas. And in the concert hall too, Katz has time and again set himself great musical and technical challenges (such as in his recent performances of Chopin's 24 Etudes). Katz was born in Israel but lives today in Berlin. He has recorded various collections of works for CD and has also often offered his interpretations to the critical ears of concert audiences. This was the case with his cycle of all 48 Songs without Words by Mendelssohn, which he performed on a single evening in the Gasteig, and his cycle of all the Schubert sonatas, given at the same venue over four nights. Whoever has experienced such events knows that in the concert hall, Katz very much retains the rigour he demonstrates in his studio recordings; and in the latter he is just as free as he is when performing for an audience. Both rigour and freedom are conveyed to the audience in equal measure.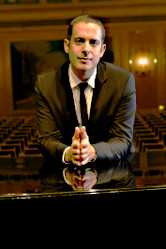 Amir Katz
Foto: Neva NavaeeAnd since they recognize the authenticity and directness of his approach to these demanding projects, his audiences gladly follow where he leads them.
With regard to his pianistic career, what is astonishing is not that Katz made an early start to playing the piano, but that he started so late. He was given his first piano lessons at the age of 11, and already by the age of 15 he was performing in public with the Haifa Symphony Orchestra and the Israeli Chamber Orchestra. When someone strikes out on such a path as an artist, it is hardly going to result in anything run-of-the-mill. And it can also lead him to a very different relationship with the repertoire. There are not many young artists – especially not on the piano, with its immense repertoire of first-rate literature – who let us feel any more that here is an artist who is devoting himself to a specific repertoire with all his heart and soul, making it his own, and who has something important to say about a specific composer (though such artists were to be found in years gone by). With Amir Katz, things are different. We believe him, we see it in him and above all we hear in his playing that he is engaging with this music in a truly heartfelt manner. But we also hear that he remains ever undogmatic, intelligent and curious and at the same time self-critical and capable of irony.
One such "heartfelt" issue for Amir Katz is surely Schubert, before all others. Of course, it's only logical that a pianist so aware of treading the paths of the great Schubert players of the past should also enter into the world of his songs. Besides his delight in playing much mixed chamber music, also by Schubert (such as at Elena Bashkirova's Jerusalem Chamber Music Festival), it is Amir Katz's close partnership with the tenor Pavol Breslik in particular that has led him to an intensive, active engagement with the cosmos of Schubert's songs. Together they have given outstanding concerts (such as at the Munich Opera Festival) and also performed the Schöne Müllerin on their first, highly praised joint CD on the ORFEO label (C 737 151). For ORFEO, it was thus a logical decision to go on to release a recording of Schubert's 8 Impromptus by this pianist. Even if one hasn't experienced his Schubert cycle in concert, one can hear in this recording his deep understanding of Schubert's world, an understanding that reaches from the general to specific pianistic details and draws directly on his experience of Schubert's Lieder.
---
| | | |
| --- | --- | --- |
| | move to consequent order no. | |
ORFEO
ORFEO D'OR