I Palpiti d'Amor
Orfeo • 1 CD • 59min
Order No.: C 740 081 A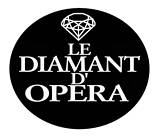 ---
Composers/Works:
G. Meyerbeer: Je suis seule - Parmi les pleurs (from: Die Hugenotten)
G. Verdi: Come in quest'ora bruna (from: Simon Boccanegra)
A.C. Gomes: Ahimè! Dove sono? - Ad ogni mover (from: Fosca)
G. Verdi: Se come voi piccini io fossi, o vaghi fior (from: Le Villi)
J. Massenet: Celui dont la parole efface - Il est doux, il est bon (from: Hériodade)
A.C. Gomes: Oh, come è bello - C'era una volta un principe (from: Il Guarany)
J. Offenbach: Elle a fui, la tourtelle (from: Les Contes d'Hoffmann)
G. Verdi: Lo vidi (from: Luisa Miller)
J.F. Halévy: Il va venir (from: La Juive)
G. Verdi: Voi lo diceste - Quante volte come un dono - A frenarti, o cor, nel petto (from: La Battaglia di Legnano)

Artists:
Krassimira Stoyanova (Sopran)
Münchner Rundfunkorchester (Orchester)
Friedrich Haider (Dirigent)

Her appearances as Desdemona in Barcelona, Vienna and Tokyo, to say nothing of her Luisa Miller in Munich and her Trovatore Leonora in Washington, have shown very clearly


C 740 081 Athat Krassimira Stoyanova has succeeded in filling a long-standing gap on the international stage as a lirico spinto soprano, a type of voice in which soft-grained, beautiful singing, equal throughout all its registers, is combined with the ability to invest such singing with dramatic accents and to ride every orchestral climax. But Krassimira Stoyanova, who will shortly be heard as Donna Anna at the Metropolitan Opera in New York, is at home in more than just the Italian repertory. A good half of the arias featured in her first operatic recital are devoted to the French repertory, including, as they do, the role of Rachel in Fromental Halévy's La juive – the part in which she made her international breakthrough – and Valentine in another grand opera, Meyerbeer's Les Huguenots.


Krassimira Stoyanova
Foto: Johannes IfkovitsShe is also heard in an excerpt from the Antonia act in Jacques Offenbach's Les contes d'Hoffmann, the role in which she recently scored a great personal success at the Salzburg Festival and Vienna State Opera, while her Salomé in Massenet's Hérodiade may well be one of the roles with which she later becomes closely associated. From the Italian repertory we hear her Anna from Puccini's first stage work, Le villi, a role in which she has already caused a sensation at the Vienna State Opera, just as she has done as Amelia in Verdi's Simon Boccanegra. Listeners who share the soprano's interest in operatic rarities will be fascinated to hear her in two excerpts from works by the Brazilian composer Carlos Gomes: Fosca – a piece about pirates – and Il Guarany, a work set among the native Indians of Latin America. With its guitar accompaniment, the coloratura aria from Il Guarany is one of the most extraordinary tracks in the present CD, in which the Munich Radio Orchestra is conducted by Friedrich Haider. But these arias also pulsate with theatrical life. An excerpt from Luisa Miller follows. And this début album is rounded off with a lengthy scene from a lesser-known opera by Verdi, La battaglia di Legnano, completing this lively portrait of a versatile and expressive performer.
---
| | | |
| --- | --- | --- |
| | move to consequent order no. | |
ORFEO
ORFEO D'OR